Should you or your boy-infant get circumcised?
Published: Aug. 11, 2011, 1:45 p.m., Last updated: Aug. 12, 2011, 6:23 p.m.
What are the benefits, risks and ethics of circumcision? These are important questions to answer for South Africa, where the government is implementing a large circumcision programme to reduce new HIV infections.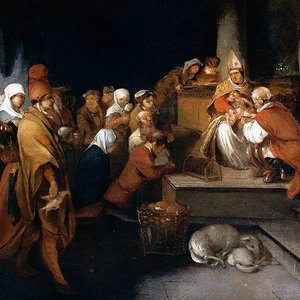 Unfortunately the discussion on this topic in the media and even at AIDS conferences is often poor, characterised by myths, misconceptions and hysteria. This article is a little different from the usual Quackdown articles in that I will not name the social scientist researchers and journalists talking nonsense. I will not directly expose the silliness of their arguments. Instead, I try to provide the essential information that can help guide men in their decision whether or not to have a circumcision and parents in their decision whether or not to circumcise their infant boys.

Please use the comments for this article to ask questions about circumcision. I will try to answer them.
How should a circumcision be conducted?
Circumcision should always be done under hygienic conditions by a trained expert. It should only be performed on males. In the case of infants, it should never be done without parental or guardian consent and in the case of anyone older than an infant, it must be voluntary. Coercive circumcisions are unacceptable and should be punishable by law.
At present only standard surgical methods should be used for circumcisions, including infant circumcisions. (The exception to this is if you are participating in an approved, ethically conducted trial to test a new device.) The most commonly used method for adults is forceps-guided surgery. Several circumcision devices are currently being tested in trials and some of them are being promoted even though the outcomes of these trials have not been published. The verdict is still out on these devices and they should not be used in adult circumcision programmes at present. Frankly, given the excellent safety record and efficiency of the forceps-guided method, the potential advantages of a device are unclear. Some people argue they will be useful in rural areas where surgical circumcisions in hygienic conditions are difficult to carry out. But I am unconvinced that devices will overcome the particular problems of rural areas. If there is no decent hospital nearby, I would recommend against carrying out a circumcision in such a place, just in case there is a complication.
When all the above conditions are met, circumcisions are incredibly safe. I am on the scientific committee for the ANRS (the French equivalent of the South African Medical Research Council) sponsored circumcision project in Orange Farm, near Johannesburg. Over the last decade, about 25,000 circumcisions have been carried out. Not one permanent injury or life-threatening event has occurred. Ten people were hospitalised, but in all cases their problems were resolved. The adverse event rate has been about 2%. Most adverse events have involved excessive bleeding. These have all resolved. The vast majority of participants have reported satisfaction with their circumcisions. One of the main reasons why young men in Orange Farm report why they are getting circumcised is that their girlfriends encourage it.
Who will benefit from a circumcision?
Circumcision has several health benefits. It removes the risk of phimosis (inability to retract the foreskin, which can be painful). It definitively reduces the risk of contracting human pappiloma virus and herpes simplex virus-2. It probably reduces the risk of contracting penile cancer. There is also some evidence that it reduces the risk of contracting genital ulcers.
But were it not for the HIV epidemic, I would not actively encourage circumcision. However, the evidence that circumcision reduces the risk of a sexually active heterosexual man contracting HIV is beyond reasonable doubt. I am willing to discuss the ethics of circumcision, about which there are complex questions. But people who dispute the current overwhelming scientific evidence of circumcision's efficacy at reducing the risk of contracting HIV are peddling pseudoscience.
In the early 2000s, studies such as this one showed a strong association between circumcision and reduced risk of HIV infection in Sub-Saharan Africa. An association does not imply cause, but it is suggestive. So scientists decided to test whether circumcision indeed reduces the risk of HIV. Three clinical trials were conducted in South Africa, Kenya and Uganda. In all three trials, volunteers were HIV-negative uncircumcised men. Half the participants were randomly selected to be circumcised. The results in all three trials were similar. The relative risk of contracting HIV was less than half in the circumcised men. This really seals the argument that circumcision reduces the risk of heterosexual men contracting HIV. Unfortunately, studies in men who have sex with men have not found a reduction.
We can be confident in the results of these trials because they were all conducted by different teams, but yet showed similar results. Critically, the randomisation in clinical trials removes all confounding factors that the previous studies suffered from, such as religious background and sexual practices. So we can be very confident that their findings are showing a real effect.
There's more good news. The benefit lasts. A follow-up study in Kenya showed that the protective effect was over 60% more than four years after the circumcision.
One of the concerns expressed about circumcision is that after it is done, men would dispense with condoms, undo its effects and put women at greater risk. The fancy term for this is "risk compensation behaviour". But a follow-up study in Orange Farm shows that there is no evidence that this happens. On the contrary, as in Kenya, this study showed that the effect of circumcision on HIV reduction does not diminish; circumcised people were about 75% less likely to contract HIV.
Circumcision works because the foreskin has a high density of immune cells, called Langerhans cells, that HIV can attach to. The foreskin also covers the tip of the penis, protecting it but at the same time leaving it more delicate than a circumcised penis and consequently more prone to microscopic wounds that allow the virus to penetrate the body.
Circumcision is an affordable once off intervention that reduces the risk of HIV infection both in the short and long-term. Currently, there is no other HIV prevention mechanism with these particular advantages. It should be part of a combination of health interventions offered by the state to reduce the number of new HIV infections. As many people have pointed out before, if a vaccine offered this kind of protection there would not be this kind of controversy and anxiety. Admittedly, an operation on the penis is more invasive and painful in the short-term than an injectable vaccine.
Should you get a circumcision?
I would recommend that you get circumcised if you meet all of the following criteria:
You are HIV-negative.
You are a sexually active heterosexual or bisexual man living in a high HIV prevalence area, like Southern Africa.
You either have multiple partners, or you are not in a long-term relationship or you are not sure of your partner's HIV status or your partner has sex or might have sex with other people.
In South Africa, most adult males meet all of these criteria. It takes about four to six weeks for the circumcision wound to heal. You should try not to have sex during that time. Also, you need to continue using condoms, otherwise you really are likely to undo the benefits of the circumcision. The reality of course is that condoms are frequently not used, else we would not have an HIV epidemic.
What about boy infants
Whether or not to circumcise your boy child is an important decision for parents (or guardians). If this is a decision you or someone you know is considering now, I hope this article will help you or your friends make that decision, but the decision is yours and no one else's. If you do decide to get your child circumcised, please make sure it is done by a properly trained competent professional, even if it is a traditional or religious circumcision. Do not risk your child's health and happiness with a quack. I imagine you would only be considering the advice of this article if you are contemplating a circumcision to prevent HIV and not for religious or cultural reasons; in which case only consider a medical circumcision.
No randomised clinical trial has been conducted in boy infants to see if circumcision is effective at reducing their chance of contracting HIV in adult life. Such a trial would be impractical to carry out because it would have to run for at least 16 years. However, the randomised clinical trials in adults are evidence that the association between being circumcised and having a lower risk of HIV infection found by other studies is indeed a causal effect. There is also no known physiological reason why circumcision should be effective only if it is conducted on an adult. The studies in Kenya and Orange Farm show that the effect does not diminish after several years. Therefore, it is reasonable to conclude that circumcising a boy infant will reduce his risk of contracting HIV once he grows up and becomes a sexually active youth or adult.
An ethical argument offered against infant circumcision is that it denies the child the choice to make in later life. Circumcision is, after all, permanent. This is true, but parents have to make many choices for their children that cannot be undone in later life, including their education, their childhood diets and the religious and cultural institutions they get exposed to. These have much more profound effects on children than whether or not they get circumcised. The important consideration is that parents should not do anything that intentionally harms a child. But circumcision on balance almost always benefits children.
Another argument against infant circumcision is that there might be a cure for HIV by the time the infant becomes sexually active. We really have no idea if 15 or 16 years from now there will be a cure. There's certainly nothing close yet.
The big advantages to being circumcised as an infant are that it is easy to do and the child will not remember the pain. It is much more difficult for an adult man to take the decision to get circumcised.
Much of the opposition to infant circumcision seems to be misplaced outrage to me. Hundreds of millions of Muslim boys and many millions of Jewish boys are alive and circumcised today, with no recollection of their circumcision and no substantive reason to feel aggrieved for having had one. I went to a Jewish school. I do not recall any boys in my class ever being the slightest bit upset that we were circumcised.
A correction to this article was made on 12 August 2011. The word "adult" was inserted into this sentence: The verdict is still out on these devices and they should not be used in adult circumcision programmes at present. The reason for this correction is that it was brought to my attention that there are approved devices for infant circumcisions.
Comments in chronological order
(12 comments)
marcus.low wrote on 11 August 2011 at 2:53 p.m.:
Benjamin wrote on 11 August 2011 at 2:58 p.m.:
Nathan Geffen wrote on 11 August 2011 at 5:44 p.m.:
Kevin wrote on 11 August 2011 at 6:02 p.m.:
Benjamin wrote on 11 August 2011 at 8:20 p.m.:
Marcus wrote on 11 August 2011 at 11:04 p.m.:
Nathan Geffen wrote on 12 August 2011 at 12:16 a.m.:
Nathan Geffen wrote on 12 August 2011 at 12:27 a.m.:
Benjamin wrote on 13 August 2011 at 8:49 a.m.:
Nathan Geffen wrote on 13 August 2011 at 9:14 a.m.:
Kevin wrote on 16 August 2011 at 10:25 a.m.:
Nathan Geffen wrote on 16 August 2011 at 11:30 a.m.:
Comments have been disabled for this article.
©
This work is licensed under a
Creative Commons Attribution 3.0 Unported License
.